ManageWP is a great service that allows you to manage multiple WordPress sites from a single interface. One of the most useful features is the ability to clone and deploy a WordPress site. This type of deployment allows you to save a considerable amount of time by not having to reinstall settings and plugins each time you launch a new website.
ManageWP's clone tool allows you to deploy a client's website from a test server to their server, or to migrate your site to a new server or domain. You can clone to a new site, or overwrite an existing one. The ManageWP clone tool streamlines your workflow and deployment process, letting you spend less time on repetitive tasks and more time making a beautiful, powerful WordPress website.
Click here to sign up for a free ManageWP account, courtesy of Curvve.
Clone to a new site
To clone your site using ManageWP, you will need to have the following information:
Domain that site will be cloned to
MySQL database name, username and login
FTP login details
If you are cloning to an existing WordPress site you can jump to Step 3.
1. Setup your WordPress Database
This step will vary depending on your host and control panel. Setting up a database is outside the scope of this blog, but there are plenty of resources avaialble on setting one up.
You're now ready to install your site using ManageWP.
2. Select the Website
Log in to the ManageWP Dashboard. Navigate to Tools > Clone Wizard.
Select the website that you wish to clone. You can also clone from a backup.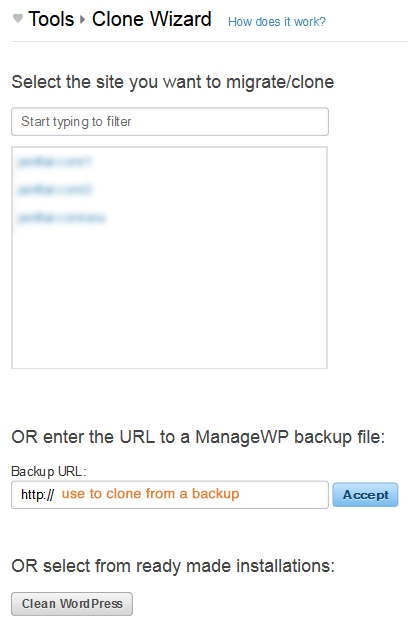 ManageWP will now take a snapshot of your website.
Make sure to exclude any folders you don't want to be cloned, and to include any folders that aren't wp-content, wp-includes, or wp-admin.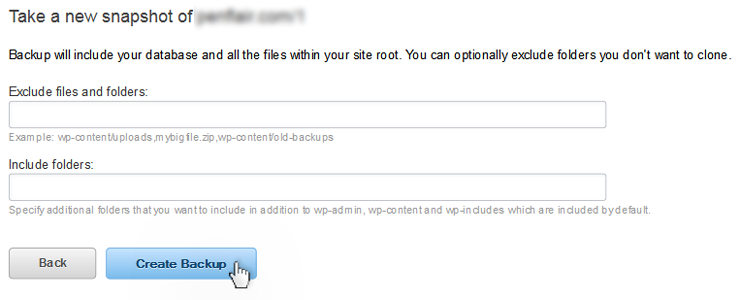 3. Select the Destination
Once the backup is created you will be asked where you want to install your site to. You can install to an existing site that is already managed by ManageWP, or you can install to a new site.

Seen enough yet? Sign up for a Free ManageWP accountInstalling to an Existing Site
If you are installing to an existing site, you will be asked to choose which site you wish to install to. You can also add a new admin username and password.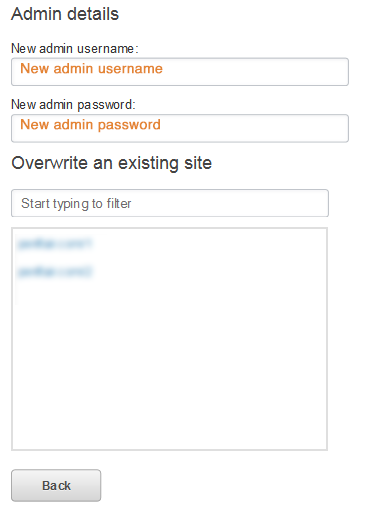 You'll be asked if you're sure. Make sure you are!!!

Your site has now been cloned!
Installing to a New Site
If you are installing to a new site you'll need to have your MySQL, FTP and URL ready. Click on New Site and input your details:

FTP Details
You should test your connection before cloning your website, this will help you to make sure that your FTP connection is working correctly. To do this click Test Connection.
If your FTP connection is not working, you may need to click on Advanced to get advanced FTP options.

MySQL
Your MySQL database should have a unique name. Make sure you don't overwrite one of your other sites' databases.
When you are happy click Clone.
You'll be asked if you're sure you want to clone the site:

A few seconds later and your website has been cloned!
ManageWP is an awesome service. You should at least give it a try with a FREE account. Click here to sign up for a Free ManageWP account